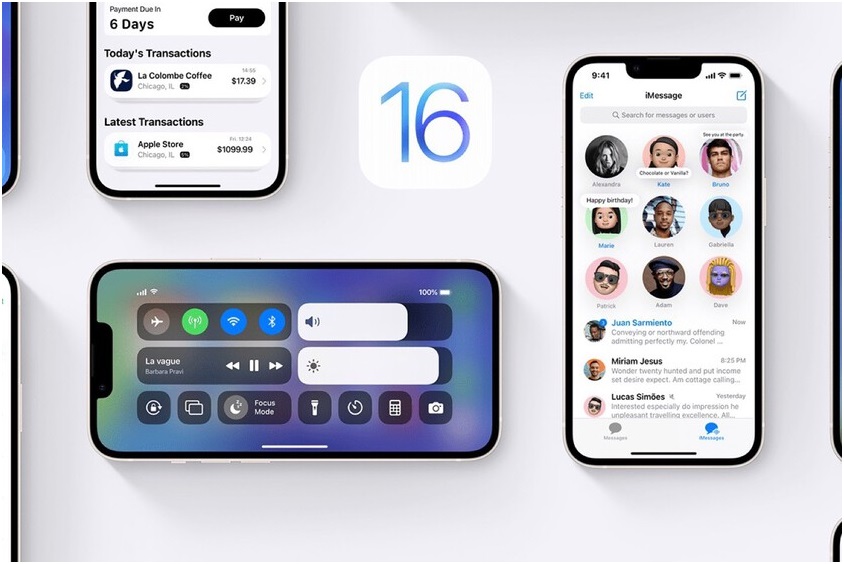 iOS 16 is an upcoming major release of the mobile operating system developed by Apple. The new version of the operating system replaces iOS 15 and will be compatible with both iPhones and iPads. Read on to learn about the new features in iOS 16.

Passkeys
Passkeys are an alternative authentication method for apps and websites. Promoted by the FIDO Alliance, which includes Google and Microsoft, Passkeys use public key cryptography to protect accounts and eliminate the need for passwords. iOS 16 will enable users to authenticate themselves in the background without typing in a password. Apple has provided extensive documentation to developers to help them create applications that work with Passkeys. The public beta of iOS 16 will be available next month, and the official release of the software is expected this fall.
While Passkeys have a number of benefits, they are not suitable for everyone. Unlike passwords, Passkeys require the user to have Face ID or Touch ID in order to access the service. The security benefit of using a passkey over a password is its inability to be guessed, stolen, or forgotten. Apple's security-conscious customers will also appreciate the privacy and increased security that Passkeys provide.
Another benefit of Passkeys is that users don't need to configure them separately for every service or app. Users are also freed from the burden of remembering passwords and other security risks that come with traditional password systems. The Passkey system also works across non-Apple devices within range. Passkeys can also be used to protect sensitive data, such as credit card numbers. But there are some caveats. Passkeys are not suitable for all apps and websites.
Apple is working to make Passkeys a universal solution for passwords. Apple says it will update iOS 16 later this year. Google is working on updating its web browser, but that could take longer. But the two tech giants are working together on a practical, secure alternative to passwords. The feature is currently in the beta phase and should be in the final release. The update could also come with Share Sheet extensions. And it's still too early to tell if Apple will remove the Passkeys feature before the final release.
Improved group texting
The improved group texting experience in iOS 16 will be available for iPhone users soon. The iOS 16 update will fix a design flaw that affected some users. It will now show reactions for iOS users in group conversations, as opposed to just those of iPhone users. As a bonus, iOS 16 will include SharePlay support and editing capabilities for messages. However, iOS users should be aware that the group messaging experience still isn't as smooth as on Android.
Another major update to the messaging app is the ability to dictate emails and messages to the device's keyboard. This means that iPhone users can now type with Siri instead of typing. The Dictation tool has been upgraded to allow users to speak content, which is useful if they are writing long messages. The new feature also lets users switch between typing and dictation seamlessly. The feature also allows users to replace typed text with voice-recorded text.
The new feature allows users to mark conversation threads as unread and edit messages. It also allows users to undo sending messages, which is a helpful feature for iPhone users. The feature will also be available to non-iPhone users who don't want to switch to iMessage. In addition, the new feature allows users to share media content with their contacts. For example, they can share a link to a movie. The other person can watch it while they are talking to them on FaceTime.
In addition to group texting, iMessage will also get a new feature for marking sent messages as unread. This feature is helpful for those who might want to reply to a message later. Face ID support will also be added to the iPhone in iOS 16. The new update will also bring FaceTime and SharePlay to the iPhone. You can also expect iOS 16 to include the ability to share videos. While these features will be available to iPhone users, they will not be available for iPad users yet.
New data types
As Apple rolls out its latest update, iOS 16, developers will have a ton of new features to choose from. Not only will iOS 16 add a new data type called 'Remote Identifier', but it will also introduce new features for apps. This update may include new features such as support for casting media to televisions, or AR-based maps of rooms. This article will outline some of the features you can expect in iOS 16.
The new feature called Lock Screen widgets, inspired by Apple Watch complications, lets you see important information at a glance. With Lock Screen widgets, you can view important information, such as upcoming calendar events, battery levels, time zones, and more. Notifications can roll up from the bottom of the screen. Live Activities also lets you track your activities in real time. Whether you're working out, playing music, or going for a run, you'll be able to keep track of your activities with Live Activities.
iOS 16 also expands its support for IDs and keys in the Wallet. IDs can now be used for identity verification or age verification. Only the necessary information will be provided to apps. Apple is opening the lookaround feature to third-party developers. Look Around lets users view a street view without the use of a camera, and it also shows transit fares and balances. With iOS 16, you'll be able to share your home keys securely through messaging apps.
As for new health tracking features, Apple is making a few changes to the notification system. According to Bloomberg, the new features will tie in with the health features in watchOS 9, which will be released later this year. Bloomberg also claims that iOS 16 lays the groundwork for several AR and VR features, including Apple's first mixed reality headset. While the company is not likely to preview the new device until later in the year, it's expected to introduce a new version of the wearable virtual reality headset.
Focus Mode
Apple's new iOS 16 update has a number of notable additions, including a revamped lock screen and a new Mail app. Many of these features were previously announced, but were overlooked in favor of a few new features. For example, iOS 16 adds a new focus mode, which can be turned on by location, schedule, or when you open a particular app. Other enhancements to Focus mode include a separate list of allow and silent notifications, which you can customize by excluding specific applications.
In iOS 15, creating Focus modes was a pain, since you needed to set a certain amount of parameters, such as a list of contacts and applications. This was a bit confusing, and the settings weren't always immediately obvious. But in iOS 16, the process has been simplified, and it's even easier to set up than before. The new Focus feature also suggests apps and contacts that will automatically send notifications to your iPhone when you are in Focus mode.
With iOS 16, Focus mode will offer greater customization and is easier to configure. By linking widgets and the lock screen to focus, you can customize the experience. Once you've linked the lock screen with Focus, you can switch between the two modes by swiping left on the screen. This means that when you activate Focus, apps will only display content that is relevant to the task at hand. Focus filters will help you find balance while you're using your device.
While these changes may be more than enough to make Focus mode a useful tool for users, the most exciting new additions to iOS 16 include an API for third-party developers. This API will make it easier for developers to develop apps that will filter content and prevent distractions when you're using Focus mode. In addition, Focus filters will let you set boundaries within apps, so you can only see the relevant content. If you're looking to improve your experience with apps, Focus filters are an excellent place to start.
Wallet app
Apple is rolling out new features for its Wallet app for iPhone. The company is taking on PayPal and Affirm with its buy-now-pay-later service. Apple's announcement sent Affirm's stock tumbling after it said it would launch the service later this year. Apple will also introduce its own payment system later this month that will allow users to make purchases by tapping an iPhone against another iPhone. This could be a direct competitor to Square, which has seen a massive drop in sales since Wallet was first introduced. Wallet in iOS 16 will also be a useful tool for tracking online orders purchased with Apple Pay.
In addition to the new Wallet app, iOS 16 introduces more privacy and security features. Apple has added new security measures in this update, such as age and identity verification. Users can also add their own keys in their Wallet to keep themselves safer. As Apple is working to create a unified industry standard, it is making it easier to share private keys with apps. However, the new Wallet app doesn't offer a lot of other new features, so users should make sure that they use it properly.
Apart from new features, the Wallet app for iOS 16 is also getting updates to support new forms of payment. Apple Pay later, for example, allows users to pay for purchases over a period of six weeks without incurring any fees. The service is managed from within the Wallet app, making it easy to track upcoming payments. Users can also track their orders and receive detailed receipts. They can also manage their Apple Pay accounts with the help of this new feature.
Apple has just announced iOS 16 – the software that the iPhone 14 will release with! Here are some of the top new features!